Cooking
modes


Microwave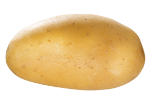 A healthy
food
The quickest way to prepare delicious potatoes:
Place the bag in your microwave.
Set the microwave to maximum power and then programme the recommended cooking time according to the size.
Take the bag out of the microwave, taking care not to burn yourself, tear off the top of the bag and pour into a bowl.
Your potatoes are ready to be eaten in salads, as a side dish or simply as is!
Recipe ideas
for cooking this product