Cooking
modes


In the pressure-
cooker


In the frying pan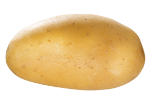 A healthy
food
Simple and chic potatoes for festive meals:
Peel and cut the potatoes into large cubes. Steam them (in a steamer or pressure cooker).
Once the potatoes are cooked, pour them into a bowl, add a few knobs of truffle butter, mix and serve immediately, still warm!
A recipe ready in an instant, for a festive side to your poultry and roasts.
Recipe ideas
for cooking this product