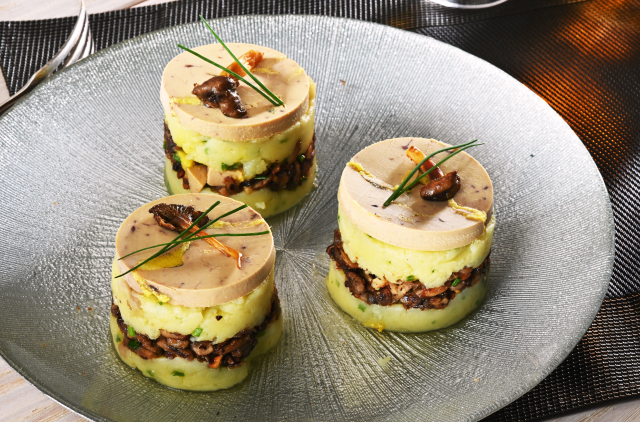 Parmentier Ratte with Foie Gras
Rattes
2 people
Prep : 20 minutes
Cook : 20 minutes
Ingredients
* 500 g Ratte potatoes
* 125 g semi-cooked foie gras
* 100 g mushrooms (button mushrooms or mushroom mix)
* 1 bunch of chives
* 1 shallot
* 1 clove of garlic
* 20 g butter
* Olive oil
Directions
Cook the potatoes in boiling water for about 20 minutes, checking with a knife to see if they are cooked through. Take the potatoes out, drain and peel them, then mash them.
At the same time, fry the washed and chopped mushrooms in olive oil with the chopped shallot and garlic. Season with salt and pepper.
Chop the chives, then cut 4 nice slices of foie gras. Cut the remaining foie gras into small cubes.
Remove from the heat and add the diced foie gras and half the chopped chives to the mushrooms.
Add the other half of the chives and the butter to your mash and season to taste.
Prepare your Shepherd's Pie Parmentier: divide the potato mash in a cookie cutter and press down. Add the mushroom and diced foie gras mixture on top. Finish with a second layer of mash on top. Remove your cookie cutter and place a pre-cut slice of foie gras.
You can finish the decoration with a few sprigs of chives, a mushroom and even grate some truffle for an even more festive meal!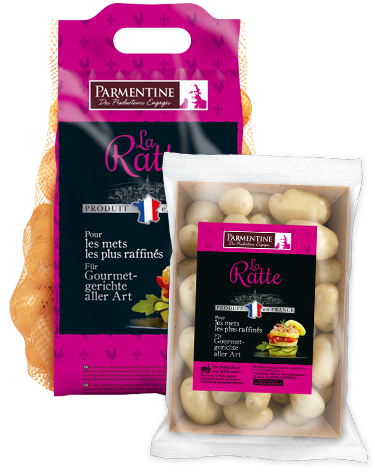 Rattes
20 min
40 min
Rattes - Winter
20 min
35 min
Rattes - Summer