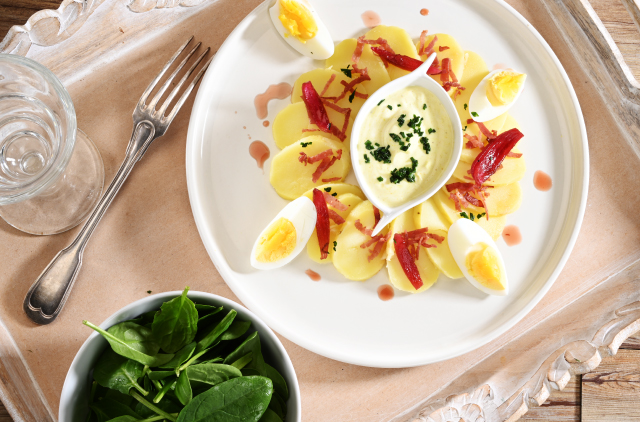 Fresh salad with red onion pickles
Cheries
Main course
-
Quick and easy recipe
4 people
Prep : 10 minutes
Cook : 35 minutes
Ingredients
*400 g Chérie potatoes
*200 g 0% fat cottage cheese
*4 eggs
*Curry powder
*2 slices of white ham or 25 g salmon roe
*1 red onion
*15 g brown sugar
*Sherry vinegar
*3 cl olive oil
*½ bunch of chives
Directions
Wash the potatoes and steam them in their skins (check with a knife to see if they are cooked through) Peel the potatoes while they are still warm and cut them into thin slices.
Mix the cottage cheese with the curry powder and season with salt and pepper. Add the olive oil.
Chop the chives and cook the hard-boiled eggs for 10 minutes in a large volume of boiling water. Peel the eggs and cut them into quarters.
Make the red onion pickles: Peel the red onion and cut into small segments. Bring the vinegar, sugar and a little water to a simmer, add the red onion segments and cook for about ten minutes.
Thinly slice the white ham (you can replace it with salmon eggs).
Arrange all the ingredients of the salad evenly. Serve with the light curry sauce.
Bon appétit!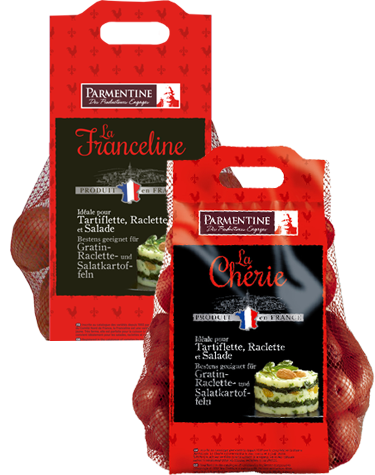 Cheries
5 min
30 min
Cheries - Winter
5 min
10 min
Cheries - Spring