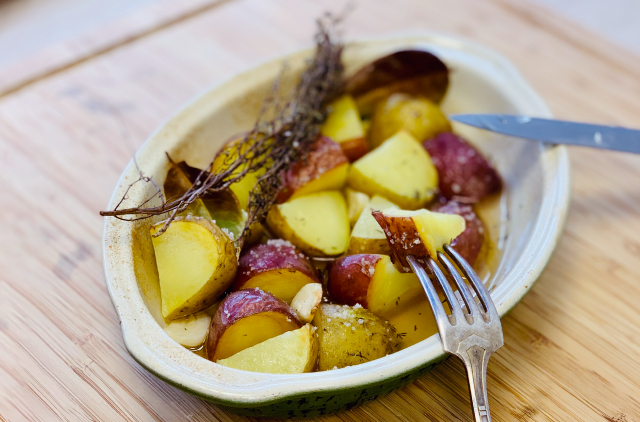 Moist chicken fillet with "crispy-melting" potatoes
Potatoes
Main course
-
Quick and easy recipe
4 people
Prep : 10 minutes
Cook : 35 minutes
Ingredients
* 1 bag of Steamed, Salad, Fried potatoes (800 g)
* 4 chicken fillets with skin
* 100 g smoked bacon
* 4 cloves of garlic
* 1 tablespoon olive oil
* 2 pinches of coarse salt
* 2 sprigs fresh thyme
* 10 sprigs chives
Directions
Cut the potatoes (peeled or not) in two or four depending on the size. Place the potatoes in an ovenproof dish, moisten with 1 small glass of water (12 cl), salt with coarse salt, add the peeled garlic, thyme, butter and bacon. Bake for 25 minutes at 180 °C.
Roll up the chicken fillets, season and arrange on top of the potatoes and cook for a further 10 minutes.
Once the dish is out of the oven, add fresh thyme, fleur de sel and chopped chives and serve immediately.
Bon appétit!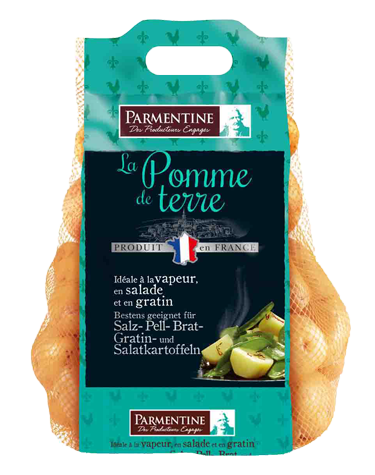 Potatoes
30 min
60 min
Potatoes - Spring
5 min
10 min
Potatoes - Summer