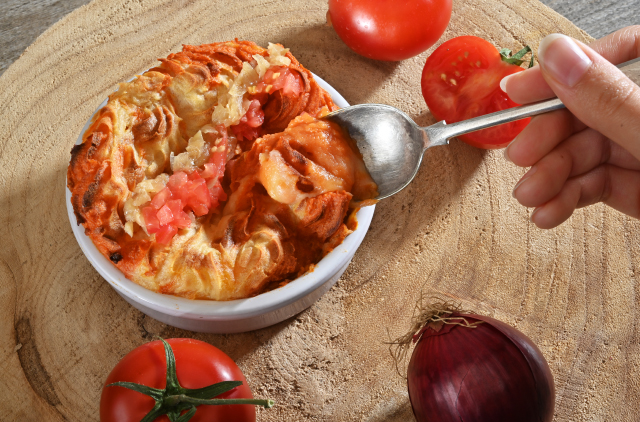 "Tomato & onion" mousseline duo
Organic oven, mashed, soup
2 people
Prep : 20 minutes
Cook : 25 minutes
Ingredients
* 1 kg "oven, mashed, soup" potatoes
* 20 cl milk
* 2x 25 g butter
* 1 clove garlic
* Coarse salt
* Tomato paste
* 1 tomato
* 2 onions
* 1 tsp sugar
Directions
Peel and cut the potatoes into large cubes. Cook the potatoes in a large volume of salted water (starting from cold water) for about 25 minutes.
Put the potato pulp through a food mill. Heat the milk with the butter and the crushed garlic clove, add to the potato pulp and mix well. Divide the mash in two.
In the first half, add tomato paste, adjusting the amount according to the desired colour and taste.
Make an onion compote by frying the sliced onions in butter with the sugar. Lightly brown.
Season to taste. Chop the onion compote and add to the second half of the mash.
Presentation
Arrange evenly, alternating colours. Arrange small diced tomatoes on the tomato mousseline and small fried onions on the onion compote mousseline.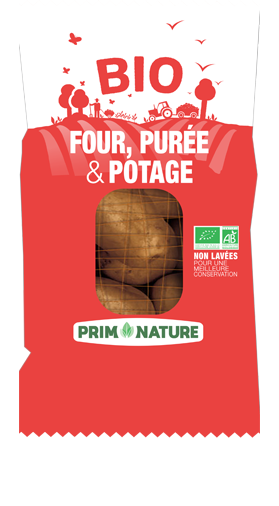 Organic oven, mashed, soup
15 min
30 min
Organic oven, mashed, soup - Winter
15 min
30 min
Organic oven, mashed, soup - Winter