Cooking
modes


In the deep fryer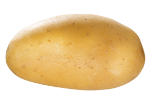 A healthy
food
The secret to beautiful chips, crispy outside and soft inside:
4Cook your chips in 2 steps.
First, submerge your raw potato strips in oil at 160/170°C for 6 to 7 minutes.
Drain the potatoes and increase the heat to 180/190°C. Deep-fry the chips again for about 2 minutes. This second frying will give your chips crispness and a nice golden colour!
Recipe ideas
for cooking this product