Cooking
modes


In the oven


On the barbecue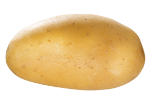 A healthy
food
Cooking in foil, on the barbecue:
Wash the potatoes and wrap them in aluminium foil. Place them in the embers.
Cook for 30 minutes (a little longer if the potatoes are large), turning halfway through. Check cooking by sticking the tip of a knife into the potato.
Open the foil, cut in half, then add a spoonful of creme fraiche and chives.
It's ready!
Recipe ideas
for cooking this product