Cooking
modes


In the pressure-
cooker


Boiled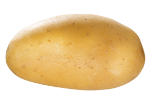 A healthy
food
How to cook your new potatoes?
Wash the new potatoes in cold water, drain and dry with a clean cloth.
Coarsely chop into cubes.
Heat the frying pan with a little fat and add the potato cubes.
Brown and sprinkle with coarse salt and bay leaf.
Leave to cook for about 20 minutes, covered, stirring regularly.
Recipe ideas
for cooking this product