Cooking
modes


In the oven


Boiled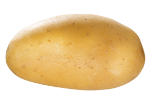 A healthy
food
How to make a delicious jacket potato?
Preheat the oven to 180 °C. Wash and dry the potatoes.
Wrap individually in aluminium foil.
Place on a baking tray. Leave to cook for 1 hour.
Just before serving, split the potato, add a tablespoon of creme fraiche and a teaspoon of chives.
Sprinkle with fleur de sel and it's ready!
Recipe ideas
for cooking this product