Cooking
modes


In the pressure-
cooker


In the oven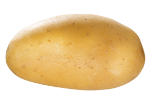 A healthy
food
Have left over steamed potatoes?
No worries – you can use them in a gratin the next day!
Peel the potatoes and cut them into pieces or slices. Put them in a gratin dish, add some creme fraiche and a few pieces of ham cut into thin strips or lardons.
Season and sprinkle with parmesan or grated cheese.
Bake at 180 °C for 10 minutes and serve.
Recipe ideas
for cooking this product